A big thank you to the team at Phoenix Company Consultants for their generous £200 donation to the Rainbow Centre.
This is an extremely worthwhile cause and every donation is gratefully received by the centre who would not be able to continue without this sort of support. Continue reading →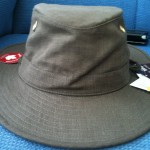 Kit, kit and more kit.  The list is obviously not endless, but it seems so!  The boots, the rucksack, sleeping bag, socks etc etc.  I had some.  I've acquired some and we're nearly there.
But, it's going to be massively hot and sunny.  A suitable hat is required.  After much research I have come across one that fits the bill – it's guaranteed against wear and tear for life.  In fact I read that this model has been eaten by an elephant, cleaned up (I hope) and worn again!  So, it's tough and when I have been eaten by a Camel Spider or Hyena at least the hat will survive!!
Continue reading